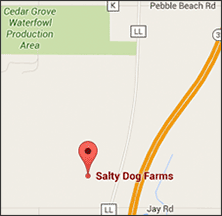 What clients have to say:
Addy and I came to Larry and Salty Dog Retrievers because I thought Addy, our 1 year old female Golden Retriever, had behavioral issues. With Larry's help and insight I learned a great deal about dogs and dog behavior that helped me to be a better pack leader in my home. I learned that Addy was a good dog doing what worked for her. With Larry's guidance I learned how to be calm and confident with her so that she can be the dog she was meant to be—not the annoying princess who ran the house.
Addy was with Larry and his staff at Salty Dog Retrievers for eight weeks. Larry had a structured, safe, clean, pleasant environment while she was there. She was fed and given medication as I directed. She was well exercised. I think she still misses being with Wicka and Ginger and the playtime they had. Larry cared for Addy like she was his own dog.
Larry was always available when I had questions via phone or email. And during his busiest time of hunting training, he was always able to schedule weekly personal training sessions. He encouraged me to come as often as I could. I really felt welcome. And that open relationship has continued following Addy's homecoming.
And the change was amazing. Addy is a good, reliable dog with nice manners that I enjoy being with. Larry helped me to set the parameters and lay the groundwork so that Addy could understand what I expected of her. Larry helped me recognize what Addy was getting from my body language. And the exercises Larry suggested for me to find the calm, centered pack leader transferred to the rest of my life. It has been life-changing for Addy and for me. Thank you, Larry!
Becky
I have been working with Larry for nearly 10 years. During that time, Jessie, Ginger and Wicca have all earned AKC Master Hunting titles, and Candy and Gracie have Senior titles and will start running Master this spring. He also has solved problems with an older Lab who now has a Junior Hunter title and is a great hunting partner. He's been very patient with my young dog, who needed to grow out of her wild runs in the field, and she completed her Master Hunter title this summer.
I appreciate all Larry's patience and assistance as I learn to run my dogs. He even allows me to come out and help with all the dogs. Thanks, Larry, for being an expert teacher and a great friend. I look forward to seeing what magic you can work with my new puppy. "
Carroll – retired teacher and avid hunter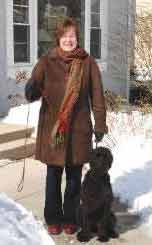 I "surprised" my husband with a Labradoodle puppy last summer and he was not happy. We already had a 9 year-old Golden Retriever and he really didn't want another dog. So I promised him that Lily would become a well-trained friend and hunting dog. This fall Lily trained with Larry and came back a very well trained puppy. It was honestly like night and day. She came when you called her. If she became hyper, we would "place" her and she would go to her special place and calm down. My husband and I entertain a lot and wanted a dog that wouldn't bother guests. This past holiday season Lily was great. I can't say
enough about the work that Larry did with Lily. She is enrolled this spring for the hunting course
and should do well as she has a good obedience base.
Amy
Communications Professional and Assistant Dean
I have been active in obedience and conformation for over 30 years and in hunting tests for over 20 years. My dogs are my family, as well as being valuable show dogs. When I look for a field trainer, I want, first of all, someone who will treat my dogs humanely and fairly, and will house them and care for them appropriately. I am more interested in good end results than I am in quick results, and want a dog that is thoroughly trained for the task at hand. Larry treats my dogs fairly, has excellent facilities for housing and training them, and they have made good progress with him. He is very open in discussing their problems and progress, and it is a pleasure to spend a day training with him and his competent helpers. When my new puppy, sired by a conformation Champion Master Hunter, is old enough for training, I hope Larry will have room for her on his truck!
Peggy
PHD Professor of Biology and Labrador Breeder
Larry has trained two of my retrievers and I have been very pleased with his training methods and results. Larry spends the time to understand the goals of the individual owner and sets his program for each individual retriever based on these agreed goals. He is very cognizant of the fact that each dog is different and each dog may learn at different rates. At the same time he is very persistent and achieves results which translate into well trained retrievers. I am very pleased with the results Larry has achieved with my retrievers and would recommend him to others.
Darren
Regional Manager in Healthcare Industry and Avid Hunter