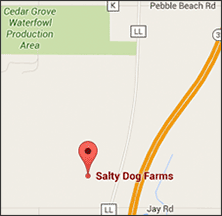 Hunting Dog Training Programs for Retrievers
Training to Your Goals
Salty Dog Farms offers gun dog training for retrievers and flushing dogs of all ages.  We will tailor a hunting dog training program to match your gun dog's abilities and your  needs, whether your goals are upland game hunting and waterfowl hunting or successful competition in hunt tests.
Training the Hunter and Hunting Dog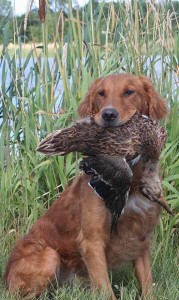 For the hunting dog, we will introduce your dog to land and water concepts such as  quartering a field in gun range, delivering birds to hand, sit to flush, working with decoys, and being steady in the duck blind or boat.
For the competition dog, our training program is based on training techniques developed and used by top professionals to promote success and to encourage a good attitude in your retriever.
We also offer individual coaching sessions or group training for you and your hunting dog.
Birds Birds Birds
We believe that the proper introduction to birds and gunshot is critical for young hunting dogs. Your retriever will see live birds daily at Salty Dog.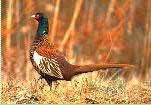 Larry Sonntag at Salty Dog Farms has 30 years of experience in dog training. He has an understanding of a wide variety of dog training techniques, including potty training for puppies, leash training and crate training. If you're looking for a dog obedience school, dog obedience classes, or private lessons for you and your dog, you've come to the right place.
Larry has trained dogs of many breeds, including large breeds like Great Danes and Mastiffs. Other breeds include Labradors, Golden Retrievers and Poodles, as well as small dogs like Bulldogs, Terriers and Dachshunds .
Larry has worked with clients from Milwaukee and many other locations including Chicago and the Racine Kenosha area. Dogs from Waukesha, West Allis and Wauwatosa have been trained at Salty Dog Farms. Clients from Sheboygan, West Bend and Fox Point have been pleased with Larry's dog training skills.