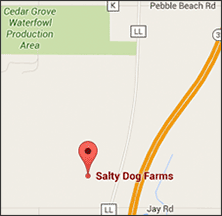 OUR BOARD & TRAIN PROGRAM IS GUARANTEED
How can we guaranty it?
Simple. That's because our obedience training is unusually effective and it lasts. When we return your dog to you, he or she will be well behaved. In the end-of-training orientation, we'll show you how to maintain your dog's excellent behavior. Working with your dog at home will require no extra time from you. Simply live with your dog as we'll show you in the orientation, and it's highly unlikely you'll experience loss of training.
What if I do experience loss of training?
Call us at no charge. Telephone behavior consultations are free for the life of your dog. Most issues can be resolved easily on the phone.
What if a phone call doesn't fix my problem?
In the rare event that you are not satisfied with your dog's behavior should we need to advise you by telephone, we'll simply book you a no-charge appointment to bring your dog to our facility. Together, we'll resolve the problem…quickly, effectively, and at no charge.
What if my dog really needs further training after that?
If an in-person appointment does not resolve the issue, simply bring your dog back to our facility and we'll work with your dog until we've fixed the problem. No training charges will apply, but if your dog overnights with us, a boarding fee will apply on a per night basis.
What exactly does the guarantee cover?
The Guaranty covers all the obedience training issues originally established when booking your dog.